Granite
Granite is a very versatile material that is great for many applications. It is an Igneous Rock that was formed by volcanic activity, and is made up of molten that cooled beneath the earth's surface. This type of stone can be quarried from Italy, United States, India, Brazil, and many other exotic places around the world. Stone from each location will have colors and patterns exclusive to that quarry. Granite can come in a Variety of different colors and patterns. Most Granite appear to be made up of flakes, while some can be veined like marble. Granite is particularly a very hard type of stone which makes it very resistant to wear and tear in turn this material is great for countertops indoors and out. Granite can also be used in applications such as walk ways and wall cladding depending on the type of finish that is applied. This material can be polished to a smooth reflective surface or it can be honed, Leathered, or flamed depending on the use.
Granite is slightly porous, and should be sealed with a high quality stone sealer. Sealing a stone surface is not difficult, or expensive. Because there are several types of stone sealer, it would be best to talk to your fabricator or builder to see what product they recommend. The process to seal a stone surface is to, clean the stone with a mild detergent that does not contain ammonia and allow it to dry for several hours. The next step would be to apply the sealer product according to the directions and wipe off the excess as instructed. It is time to reseal your stone when water will not bead up on the surface. When cleaning stone, there are a couple of do's and don'ts. Don't use any products with ammonia, strong caustics, or solvents such as Windex. Ammonia will remove the sealer, and strong caustic cleaners will do the same.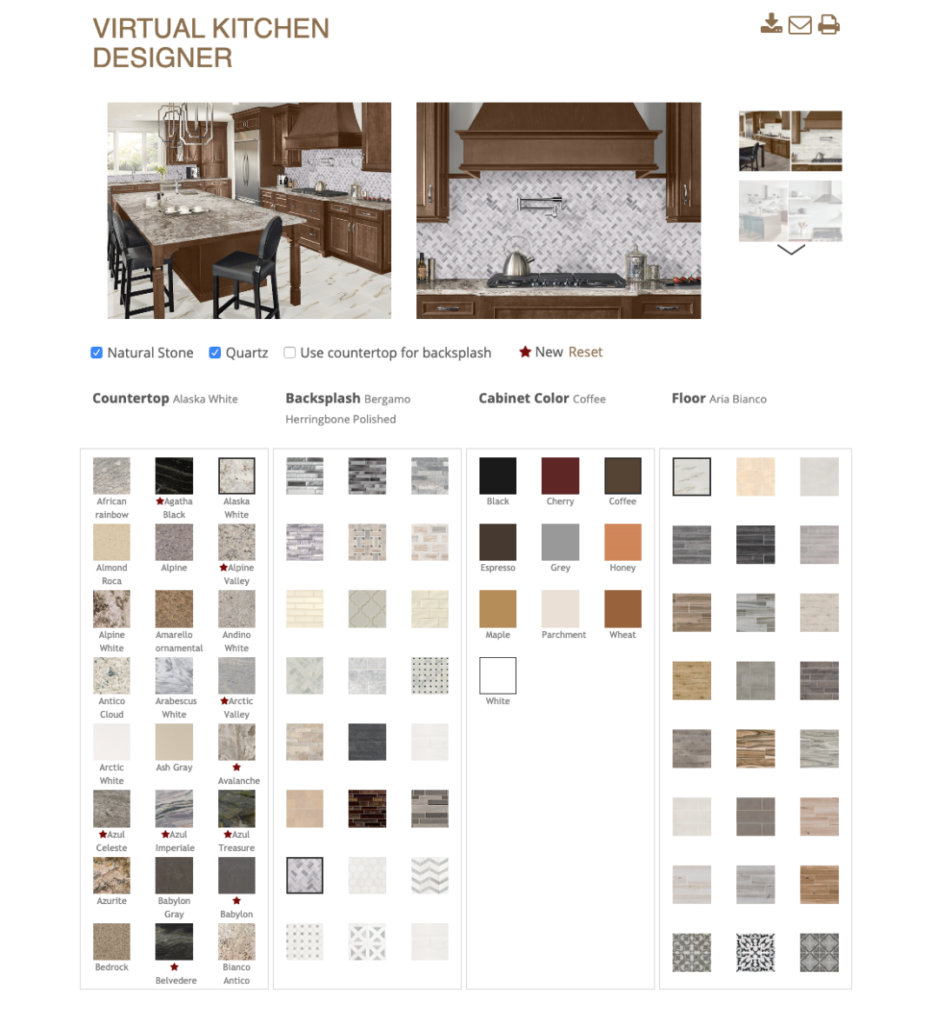 Design Your Own Kitchen
Envision Your Kitchen Visualize cabinet, countertop, floor tile and backsplash options in different kitchen settings. Use this quick tool to mix and match your choice of colors to visualize the ideal kitchen design. With a simple click, email, print, or save your favorites to help in making final selections.
Need Accessories? Feel Free to Check Out Our Showrooms.