Stones
If you need help finding the right stones for your project then check out what we have in stock.
We have assorted Marble & Granite stones along with man made stone.
Granite
Granite is a very versatile material that is great for many applications. It is an Igneous Rock that was formed by volcanic activity, and is made up of molten that cooled beneath the earth's surface. This type of stone can be quarried from Italy, United States, India, Brazil, and many other exotic places around the world. Stone from each location will have colors and patterns exclusive to that quarry. Granite can come in a Variety of different colors and patterns. Most Granite appear to be made up of flakes, while some can be veined like marble. Granite is particularly a very hard type of stone which makes it very resistant to wear and tear in turn this material is great for countertops indoors and out. Granite can also be used in applications such as walk ways and wall cladding depending on the type of finish that is applied. This material can be polished to a smooth reflective surface or it can be honed, Leathered, or flamed depending
on the use.
Marble
Marble is a metamorphic Stone, which means it is made up of limestone that was exposed to intense pressure and high temperatures over a long period of time. This causes the material to go through a molten phase, which allows minerals to come in and give marble the distinct swirls and veins. Marble is of medium hardness and is Ideal for Bathrooms, floors, foyers, and fireplace surrounds. Marble has also been used for centuries for making monuments and statues and is still the top choice for stone sculptures. With the beautiful patterns and amazing polish, marble can bring elegance to your home. Marble is found in wonderful places around the world such as: Italy, Canada, Spain, Greece, and many more. Like granite, marble quarries can be known
for a specific color.
Engineered Stone - Ceasarstone
Caesarstone is the original quartz surface manufacturer. The company is headquartered in Southern California, with divisions in Los Angeles, CA, San Francisco, CA, Seattle, WA, Phoenix, AZ, Dallas, TX, Houston, TX, Miami, FL, Atlanta, GA, New York, NY, Boston, MA, and Chicago, IL. We also have independent distributors across the country to serve our customers across all regions.
With two state-of-the-art production sites and four fully automated production lines, Caesarstone has an annual capacity of over 2 million square meters (over 20 million square feet). Our brand new second plant utilizes cutting-edge techniques and the latest technologies available, doubling capacity and increasing the possibilities for technological advancement.
Engineered Stone - Silestone
Silestone is the world's leading producer of quartz surfaces designed for high-quality kitchens and bathrooms, including countertops and sinks with advanced bacteristatic technology.
Silestone is the only brand that offers a certified warranty, in writing. Only a global leader could once again draw ahead of the pack and offer a genuine 25-year transferable warranty for Silestone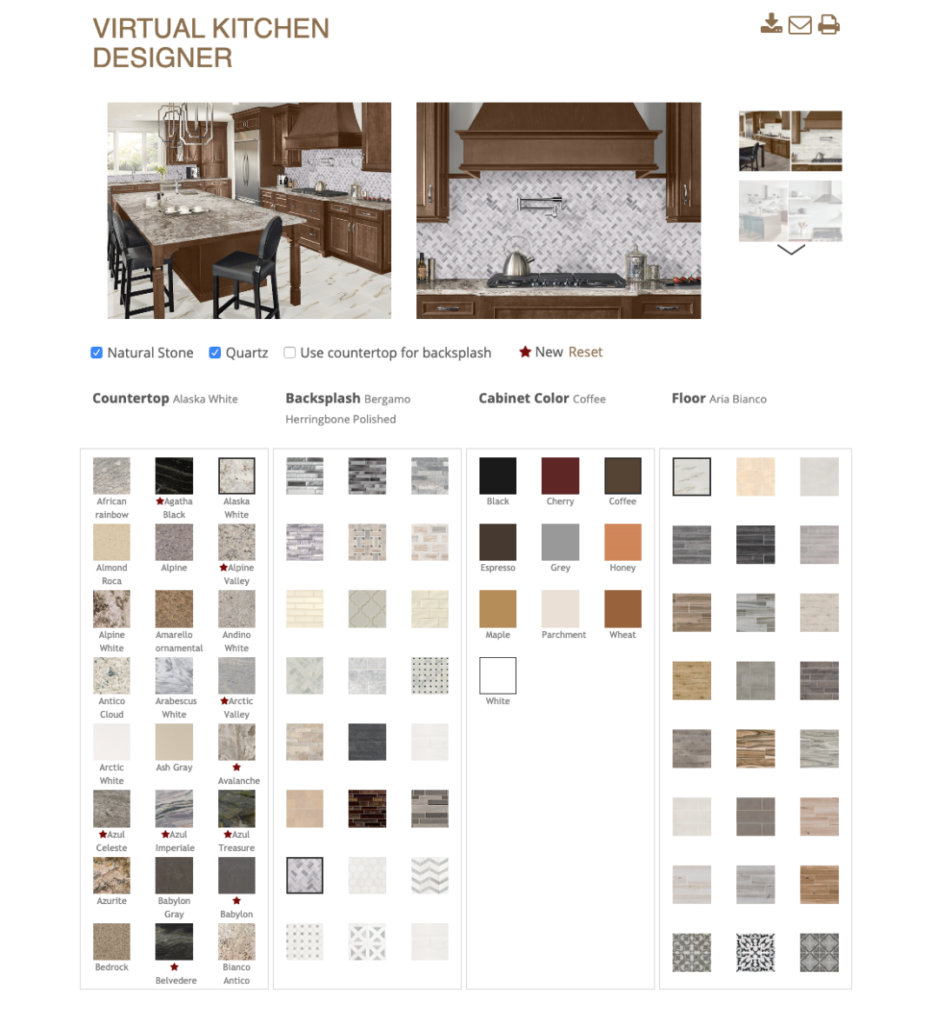 Design Your Own Kitchen
Envision Your Kitchen Visualize cabinet, countertop, floor tile and backsplash options in different kitchen settings. Use this quick tool to mix and match your choice of colors to visualize the ideal kitchen design. With a simple click, email, print, or save your favorites to help in making final selections.
Need Accessories? Feel Free to Check Out Our Showrooms.